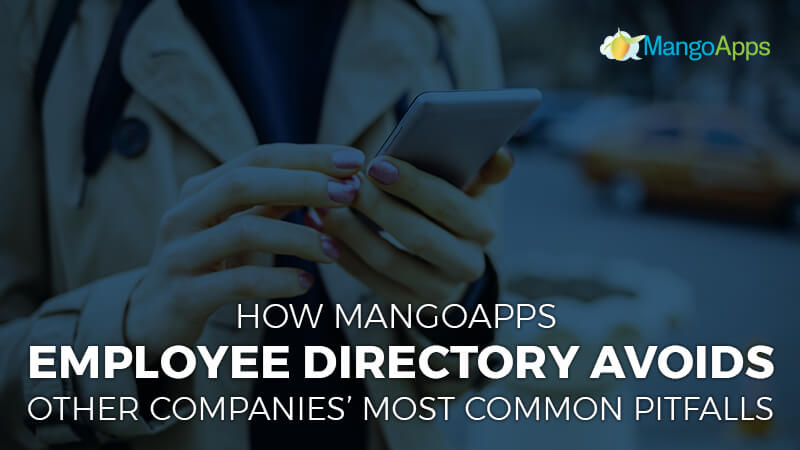 If you're part of a growing company, updating and maintaining office directories can be a real challenge. Even at their best, using these kinds of directories can range anywhere from tedious to frustrating. Organizations today are changing more rapidly than ever before. A static employee directory doesn't fit the needs of the new age workforce anymore. Luckily, MangoApps has designed a new type of employee directory that is best suited for the modern office.
Let's take a look at how MangoApps' employee directory avoids the common pitfalls other company directories have:
MangoApps Employee Directory vs. Spreadsheets
Real-Time Updates
Spreadsheets may work well for budgets, but they are not flexible enough to be used as an entire employee database. Spreadsheets are also entirely dependent on human input, making them highly susceptible to error. The responsibility of updating and maintaining a directory spreadsheet is typically assigned to an admin. This creates another never-ending low priority task for an already busy admin to try and squeeze in. MangoApps offers real-time updates and admin controls on your entire employee information. This allows employees to update their own information when needed.
When an organization uses spreadsheets as an employee directory it quickly becomes outdated. When employees realize that these spreadsheets are not current they generally disregard them entirely. They get buried in a file folder somewhere on a desktop, only to be occasionally accessed with hesitation. That's not exactly the most reliable way to document employee information. MangoApps can be hosted on public cloud, private cloud or on-premise servers. This ensures that your information is stored in a central location, helping standardize the company data for all employees.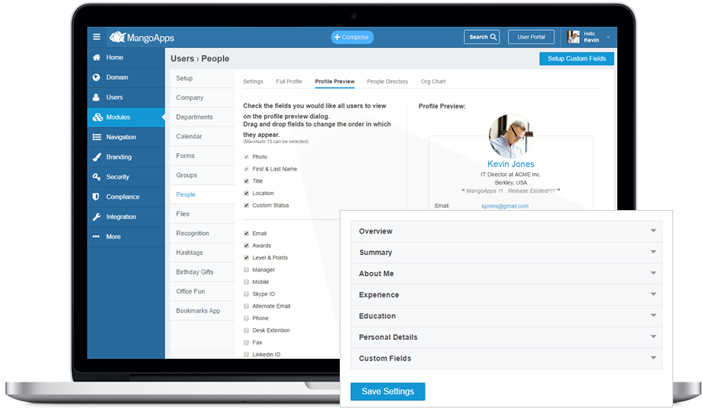 Standardized Information
Employee directories are typically limited in the employee details they store and provide. Most fields are filled simply with facts, such as names, titles, department, location, email, and phone numbers. With MangoApps Employee Directory, admins have control over what shows up on the profile page of all employees. This is a great way to standardize the people directory in your company. Users can also edit and update their own details as they change roles due to promotions, transfers, etc. This ensures the information remains current and prevents admins from having to administer changes for every employee. These changes are reflected in real time ensuring that employees always have the correct version of a resource.
Advanced Search Filters
MangoApps Employee Directory provides a filter that allows you to browse people by department, location, and more. MangoApps Profile Pages also provide biography, expertise, activities and social connections. Profile pages help people connect and get to know each other, improving employee morale and driving employee engagement. You can use the Q&A leaderboard, answered questions and accepted answer's attributes to narrow down and locate the co-workers you need to get in touch with. With this advanced search, your workforce becomes much more integrated and connected.
Access Across All Platforms
Spreadsheets are hard to maintain, access, and update on multiple platforms. If you have an organization that depends heavily on collaboration within teams, isn't it tedious to first update employee information on a desktop and then manually save or dial the numbers from a smartphone? This dampers employees productivity as organizations use applications that are not suited for handling the challenges of a growing workforce.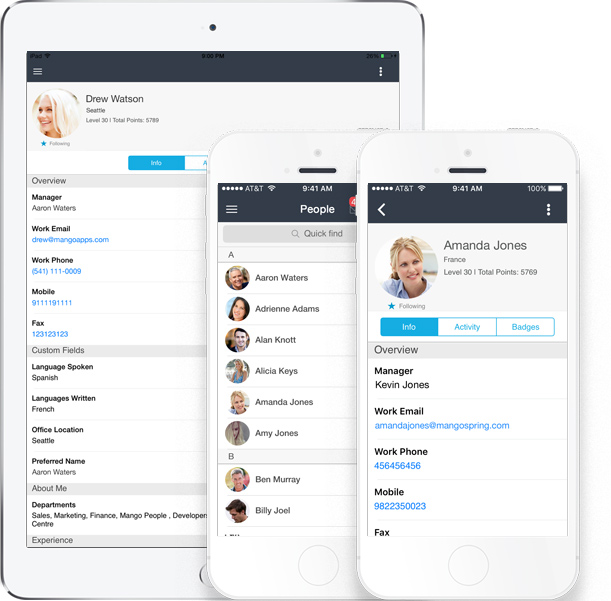 MangoApps Employee Directory is easily is available on any device, making it the perfect tool for employees on the go. This increases the reach of your employee workforce and boosts collaboration.
MangoApps Employee Directory vs. HR Software Directory Features
MangoApps Social Profiles
Many HR software products include an employee directory feature that is an upgrade from spreadsheets. These tools focus on the HR domain and typically include features like attendance data, payroll details and HR benefits. They do not cater well to activities that are not HR related and do not support collaboration and discovery. As a result, using HR software is typically unenjoyable, discouraging, and usually must be monitored by an admin.
In comparison, MangoApps Social profiles provide a visually appealing professional page. This allows you to make a powerful impression and showcase your expertise company-wide. By having your internal social profile pull data from your LinkedIn account and your company's active directory, creating your profile is quick and easy. With all of this information readily available, your company has a powerful enterprise tool to find experts fast. Your professional insights on your internal social profile could include: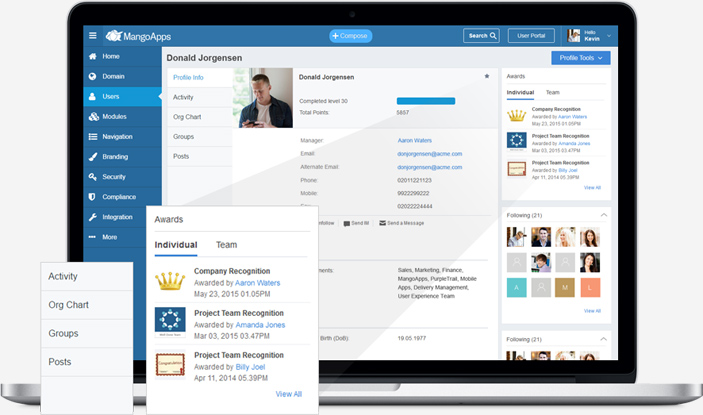 Current Work Activity – Social profiles typically show your activity in the company. This includes your status updates, any posts you have made, comments, liking content etc.
Projects – Social profiles show the projects and groups you have ownership of or you have been a contributing member of since your start with the company
Documents – These are the documents that you have written or contributed to across different assignments
Ideas and Opportunities – These are ideas you have generated, campaigns you have contributed to and any sales opportunities that you are driving for your company
Publications – All of the online content that you have created (e.g., wikis, posts, blogs etc.)
Awards, Recognition, and Achievements – The appreciation and recognition your work has received from management and peers
Your Followers and Who you Follow – The colleagues at work you follow and the ones who follow you
Powerful Organizational Charts
HR software is an important tool to help set and implement the rules in an organization. However, the push by vendors to market their products as effective organizational charts is hard-pressed. This important employee-centric feature remain little more than just an add-on option and never fully evolves into the full-fledged feature you need to helps your employees become productive. MangoApps Organizational Charts removes the burden from the admin by building the hierarchy either manually or automatically with the help of the following features: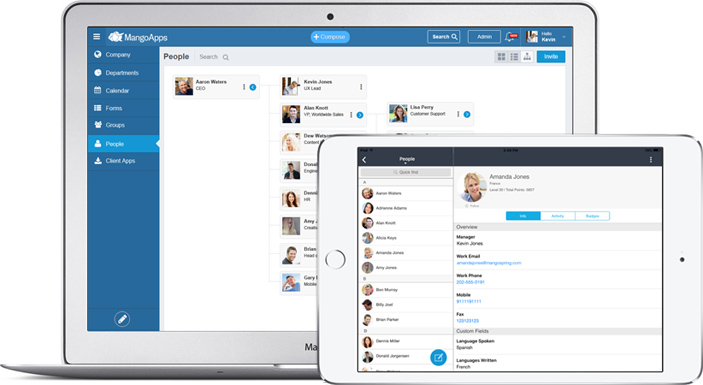 AD/LDAP Sync: MangoApps Organizational Charts help built the hierarchy in sync with your AD/LDAP. This allows the organization chart sits at the heart of your social intranet platform and lets employees effortlessly browse through it visually.
Integrated Social Profiles: Clicking on any of the images in the organizational chart leads you directly to that person's internal social profile. This makes it easier to see what your colleagues are up to and to engage with them. Recent activity on their profiles also allows you to stay current with what your company network has been sharing and working on. The more you know about your network of colleagues the more you can collaborate and become productive.
MangoApps Employee Directory vs. Traditional Intranets Directory Features
Quick Employee Search
The employee directory on a traditional social intranet site is often hidden or hard to find. Even if you can find it, it is typically loaded with outdated and irrelevant information. MangoApps offers a social intranet platform that helps organizations to not only implement the basic features expected from any traditional intranet but also engages your workforce and helps them find value in each search or interaction. With MangoApps, the quick employee search and predictive type-ahead search bar help you find results fast and connects directly to a person's profile, helping people to connect, get to know each other, improve morale and drive engagement.
Improving Scalability With AD/LDAP
Traditional intranets also fail to scale up according to company staff strength. Traditional intranets cannot effectively segregate into meaningful smaller communities or identify duplicate or overlapping information. As the number of departments and employees increases, the chances of seamlessly accommodating all of their information decreases rapidly, generally leading to a loss of employee engagement and resulting collaboration abilities. MangoApps features helps both large and small organizations save the time and improve their employee engagement and productivity with the following scalability with LDAP/AD features:
Integrate Users With LDAP/AD: In terms of scalability, you can easily integrate with AD/LDAP as the single source of truth and in sync with MangoApps.
Organize And Manage Users With LDAP/ AD: You can also add a filter to give access to only a subset of AD/LDAP users into MangoApps.
MangoApps Custom Profile Fields: Additionally, you can map specific AD/LDAP attributes to MangoApps profile custom fields and ensure that you keep the information that matters visible and in-sync.
MangoApps Employee Directory vs. Standalone Directory Apps
There are hundreds of different types of standalone business software applications on the market that claim to improve your business processes. But each one requires a separate analysis and curation before it can be successfully implemented within your organization. Imagine employing 10+ expensive standalone software solutions to resolve different business processes, but none of them have more than 20 percent employee engagement.
Eventually, with multiple standalone software, the workforce becomes confused and disinterested as they have to shuffle between apps, update databases and be active on multiple platforms. This becomes almost impossible, tedious and energy draining for an employee. And if by any chance, an employee does manage the herculean task to work, update and be active on all these 10+ expensive applications, he still only appears to be productive rather than actually getting work done.
These standalone solutions are also designed to be used on their own and often do not integrate well with other standard products. This can make it difficult to compare and correlate data across different business units and departments. If a user is promoted to be a part of another business unit, a standalone directory app changes only the required information and fails to acknowledge or capture the efforts of the person that resulted in his promotion. The standalone directory app behaves almost like a glorified spreadsheet and is mechanically updated without any engagement or reaction from either the employee's colleagues or teammates.
Learn More
With MangoApps, the employee directory is one of the modules designed to help improve employee engagement and productivity. MangoApps aims to be the hub of your digital workplace. It is the central location for employees to seamless access to all of the tools they need to share, communicate, collaborate, find and learn. MangoApps combines employee intranet, collaboration, messaging and learning along with 50+ built-in integrations in one seamless system for better business performance. We understand that as organizations become more digital they need to move faster, adapt quickly and embrace changing workforce needs. A highly advanced employee directory is one of the first steps toward achieving this goal.
To learn more about how MangoApps can help transform your business, read about our other modules, or reach out to our sales team.