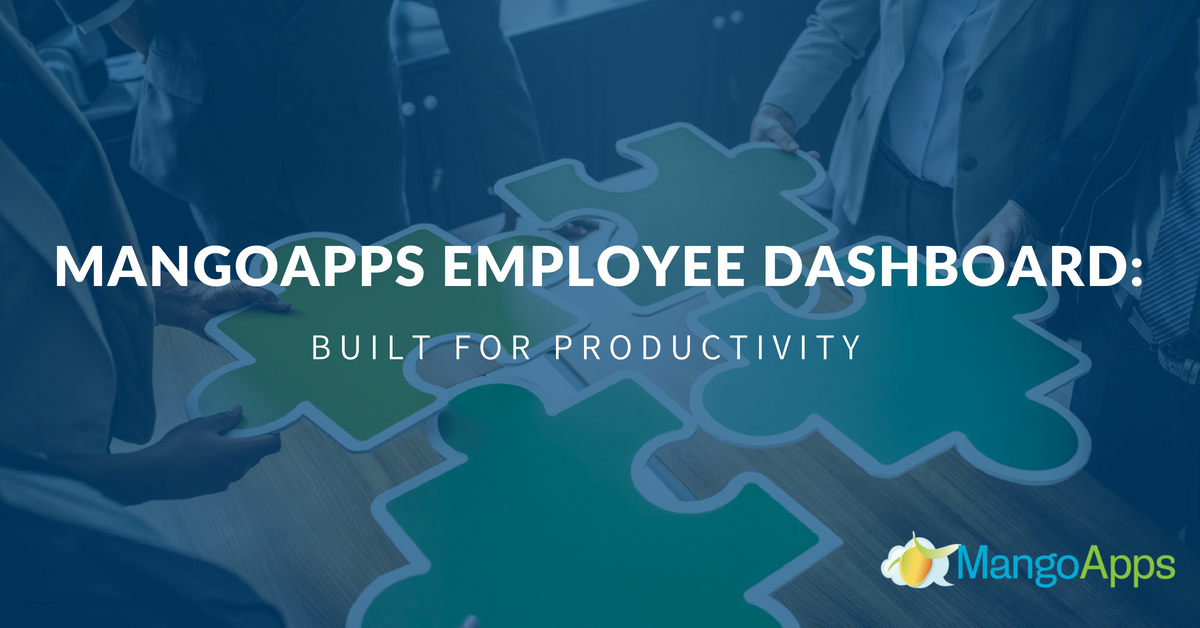 As any athlete knows, proper technique makes life a lot easier. In both sports and business working hard will never be enough if you aren't also working smarter, staying innovative, using good form and utilizing the right tools for success. One of today's essential business techniques is to provide your workforce with accesses to everything they need from a single location. This platform must help management, encourage collaboration and enable employees to accomplish their daily activities. But how do you choose the right tools to make it happen? At Mangoapps, we've looked closely at the challenges facing leading companies around the globe and have come up with the perfect solution. MangoApps employee dashboards are designed to help your business work better, work smarter, improve technique and create a truly digital workplace.
What Is An Employee Dashboard?
In general, a dashboard is an information management tool that is used to visually analyze, track and display updates, information and other key data points. Dashboards simplify complex data, update users with current information and events and provide a central location for employees to see and respond to relevant information. MangoApps employee dashboards focus on providing these features within the context of the office and are a one-stop access point for frequently used employee information. A highly evolved employee dashboard connects to files, attachments, content, services and other external apps, and displays all of this data in beautifully designed, customizable and easy to process sections. MangoApps employee dashboards are the most efficient way to offer your employees functional tools and relevant content all with a personalized experience.
How Do MangoApps Employee Dashboards Work?
Because employee dashboards are highly versatile, no two experiences will be exactly the same. What does stay the same, however, is the functionality and effectiveness they create for all of their users. MangoApps employee dashboards quickly become the default page for users to start their day and stay productive. Let's take a look at a few of the features that allow employee dashboards to encourage success.
Balance Between Management and Personalization
As an admin, you have the ability to find the perfect dashboard balance. MangoApps employee dashboards can be enabled with three different settings depending on the needs of your individual business. Locked dashboards provide all users with one standardized dashboard layout and do not allow users any customization abilities. Semi-customizable dashboards also ensure that all users have the same widgets but allow employees the ability to relocate and resize them according to their own preferences. Finally, fully customizable dashboards give employees complete freedom to move, resize, add and remove widgets, enabling a completely unique and personalized experience.
Auto Personalized Content for Each Employee
All three of the different dashboard layouts create content that is always auto personalized for every individual employee. So an employee from the accounting department will always receive information relevant to his or her various accounting related teams. Employees will also be notified about holiday policies, events, quick links, etc based on their own office locations in addition to important company-wide information. All content can be custom tailored to the user's unique needs.
Aggregated Company and Team Updates
With MangoApps employee dashboard, your employees will never miss an announcement from the company, a department, a project or a group again. Multiple widgets are in place to help keep your workforce informed and in the loop about everything important going on.
Advanced Widget Galleries and Abilities
With the in-built widget gallery, you won't need a developer to support or create your dashboard. Dashboards can be easily customized using a large selection of accessible widgets and widgets themselves can be moved or resized with just a click. Widgets usage can also be controlled on an admin level. The sticky widget feature allows admins to make important widgets like announcements or company news permanently remain on a users' dashboard, ensuring that essential information is always seen and available.
Easy to Add and Update Content

Adding and updating content to the dashboard is quick and simple. Custom text widgets allow links to important websites or other custom content to be easily incorporated, and external source integrator widgets are perfect for including external content like weather, stock updates or even feeds from Twitter or LinkedIn.
Adaptive Layout Abilities
Employee dashboards are as designer-friendly as you need. You can choose from a list of pre-defined layout options where widgets automatically arrange themselves or rearrange and resize widgets to fit your own preferences. Your customized layout is then automatically "remembered," guaranteeing that your widgets will stay how you like them for every visit. The size of a widget will determine how much content it can hold and almost all widgets can be personalized by their width and height. You'll be able to play around with different layout options, widget sizes and placement until your dashboard has just the right layout.
Unique Multi-Platform Experience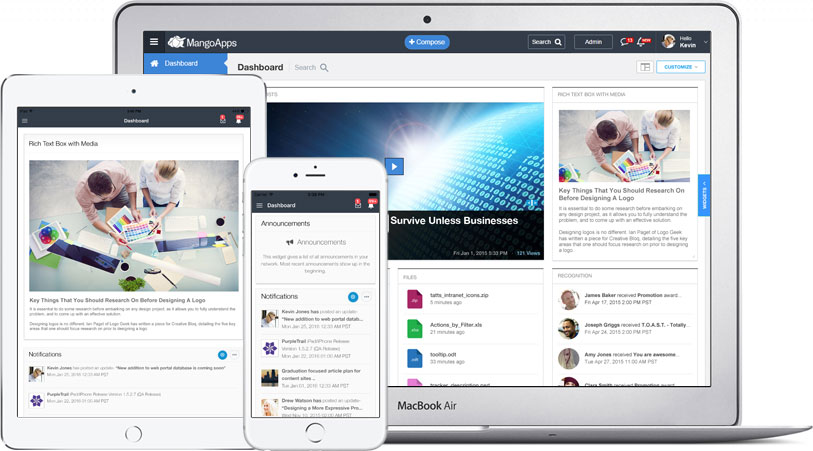 MangoApps employee dashboards are available on multiple platforms, allowing quick and convenient access from mobile phones, tablets, desktops and any other device. No matter where work takes you, you'll have the same dashboard abilities as someone sitting in front of a PC. This allows employees to stay updated and informed in the office, in a meeting, working remotely or even on the go.
Employee Dashboards are Fueled by Productivity
MangoApps employee dashboards provide smart and easy-to-use information layering through widgets. These features can be accessed and enabled from the widgets gallery and come in a wide variety of categories.
Company and Team Widgets
Company and team widgets provide updates and information to employees from their various projects, departments and teams. They also help to share important company-wide information and announcements to your entire workforce.
Content Driven Widgets
Content driven widgets help users find important content like company pages and posts, team posts and blogs from the people you follow. They can also be used to quickly access shared forms and files from within MangoApps.
Employee Engagement Widgets
Widgets in this category keep employees engaged by allowing them to network within the company. Employees can follow coworkers or interact with them through birthday wishes, recognition and badges. They can also share their feedback with management or answer questions through questions, surveys and polls.
Task, Event and Calendar Management Widgets
Task and event widgets manage and capture important information about specific events and to-do items. Calendar displays and quick reminders help employees stay aware of upcoming events, track milestones and stay ahead of due dates. Similarly, to-do lists can be either personal or shared and can give supervisors visibility about action items employees are working on.
External Integration Widgets
MangoApps supports more than 50+ external applications to help increase user productivity. These external widgets can be accessed on multiple platforms and allow employees to truly keep everything they need in one easy to access location.
Admin Widgets
Admin widgets are only accessible by the admins of your MangoApps domain. These widgets enable access to various shortcuts and administrator settings that are used to manage the entire MangoApps network.
MangoApps employee dashboard expertly includes all of the information employees need on one easily accessible platform. At MangoApps, we provide companies with the tools they need to improve their own business techniques and as a result experience greater growth, increased productivity, improved connectivity, and a highly engaged workforce. Ready to build your own employee dashboard?