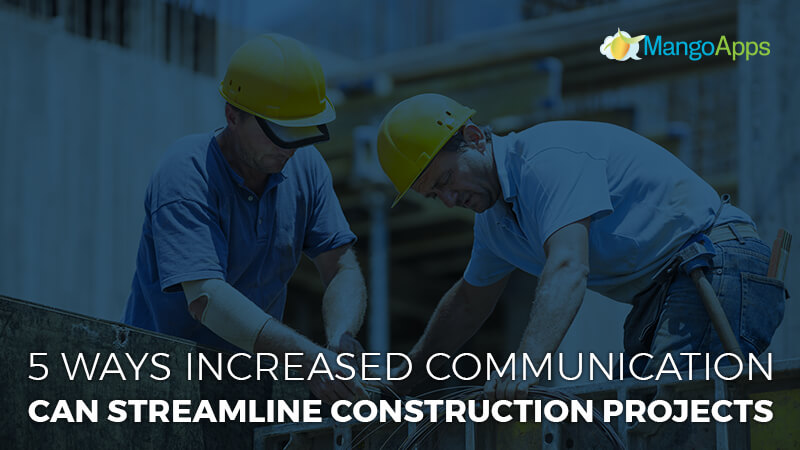 To streamline construction, you need to have a truly collaborative experience. From the client or organization in need of the structure, the construction company in charge of operations, individual independent contractors, local government rules and regulations, and even pedestrian or local citizen support, it takes a lot of communication and coordination to get a project completed.
Below, are five ways that increased communication can streamline construction.
5 Ways To Streamline Construction Projects:
Create A Centralized Space
Construction work depends on a lot of factors, and no two projects are ever exactly the same. Inclement weather, local events, the time of year, and the location of the project all change how work needs to be handled. Depending on the time of day work is done or the worksite's physical location, getting important information out right away isn't always easy. Construction workers need a simplified way to coordinate quickly with supervisors, foremen, and coworkers about workplace changes, unexpected issues, and immediate concerns. In order to be effective, this method of communication also needs to work well within the construction environment of irregular hours, loud and potentially dangerous equipment, and workers spread out across the site. With a mobile-friendly, easy to manage, and always available communication method, collaborating and communicating effectively becomes easy.
Enable Complete Compliance
In construction, cutting corners is absolutely unthinkable. The safety, structural integrity, and functionality of a project depend on dedicated compliance to every rule and regulation. When mistakes or missteps occur the results can be dangerous or even detrimental. By creating a detailed checklist all employees are able to easily see and interact with, supervisors can quickly update new requirements and coworkers can remain aware of important changes, processes, or compliance concerns.
Simplify Training And Development
Construction is a complicated industry and work tools, building material, and even structure styles are always changing. Construction employees need to know how to operate and effectively work with each new component as soon as possible. But finding time to train every employee is incredibly time-consuming. With a centralized communication and collaboration platform, effectively teaching and informing employees becomes a lot easier. Managers can upload specific training courses, product instructions, certification requirements, and even lessons and quizzes. This uniformity gives every employee a similar learning experience, without taking time away from important work. Employees can instead learn and certify themselves at the most convenient opportunity.
Offer Feedback And Recognition
Employees need consistent feedback in order to thrive in the workplace. This support shows workers that their managers are aware of them, acknowledge their efforts, and care about their long term success. Offering support and engagement in construction can be difficult. Find a way to communicate praise to employees, preferably in a public setting where coworkers can see and contribute as well. As you increase encouraging communication, workers will become more dedicated and devoted to their tasks. This helps employees work more efficiently and improve the overall work environment.
Encourage A Social Environment
In addition to praise and acceptance, construction workers also need friendship and comradery for success. With varying work schedules and environments, finding that friendship can be difficult. Give employees a place to communicate together, connect, and establish a social sphere. When employees have a place to meet up, share stories, and build positive relationships, they become more engaged and interested in their organization. Work is no longer just a place to earn an income, but actually a fun and productive environment where they want to be.
Streamline Construction With MangoApps
Construction is a complicated and intricate process, relying on effective team collaboration and communication. But improving the process to streamline construction is an absolute possibility. At MangoApps, our tools are designed to make that happen.
To learn more about how MangoApps works with construction companies, contact us or schedule a personalized demo today.