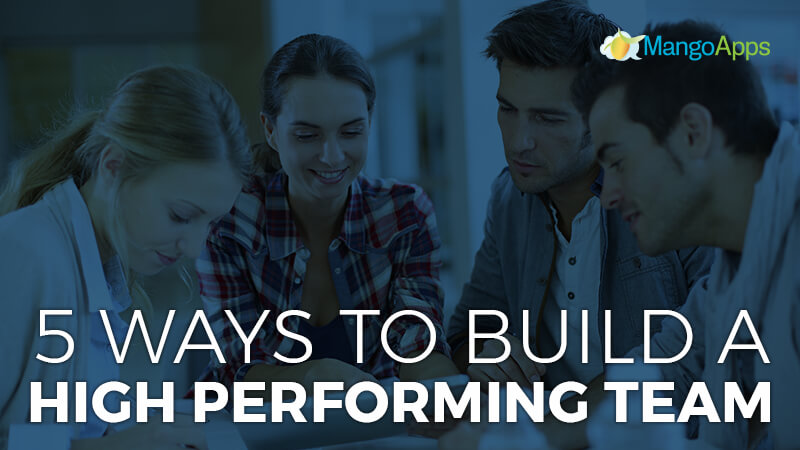 There's nothing quite like working with a high performing team, but successful groups almost never happen accidentally. Teams, when done right, are a huge asset both to the company and individual employees. In our article today, we'll take a look at how to build high performing teams at any organization.
5 Ways To Build A High Performing Team:
#1: Set Clear Goals
One of the biggest hurdles to building a high performing team, is having to overcome unclear goals and objectives. When team members are working toward different objectives, or don't know definitively what the end goals are, poor communication and ineffective work are inevitable. Before your team starts dividing assignments, take the time to meet together and make sure everyone is on the same page. Clearly define your team's objectives and any goals or actions that go along with it. Allow people to ask questions, provide input, and start off together. Having clearly defined goals can improve your organization's team collaboration.
#2: Assign Roles and Responsibilities
Once everyone in the team is on the same page, it's time to assign roles and responsibilities. Clearly defined roles prevents duplicate work from happening and gives every team member a clear objective to work toward. Take the different strengths and weaknesses of team members into account when assigning roles and try to find a good fit for each member of your team. When a wide variety of skills complement each other and come together, the best outcomes always occur. Make sure every member of your team understands their importance to the team as well. In a high performing team, no one role or responsibility is more important than another.
#3: Establish Strong Leadership
Team leaders are essential for a high performing team. Leaders keep everyone focused, on track, and working well together. A good leader can build unity within a team and encourage an engaging and productive environment. When choosing a team leader, consider not only the person's capabilities, but also what kind of work needs to be done. Regardless of overall goals, a strong team leader should be able to: provide clear and helpful feedback, honestly address questions and concerns, genuinely listen to team members, manage any emerging conflicts, and wholeheartedly recognize and reward success.
#4: Show Heartfelt Recognition
Whether it's a leader encouraging teammates, or peers highlighting success, recognizing and supporting other team members will boost morale, productivity, and engagement. Employee recognition is key for a high performing team, and shows employees their hard work is appreciated and noticed by others and encourages both continual effort and a healthy work environment. Recognition even benefits other team members as well, as they see the support and encouragement a peer receives and strive to accomplish the same outcome.
#5: Regular Status Reports
Conducting regular status reports helps everyone stay on track and keeps each other updated without having to hold long, drawn-out status meetings. With innovative intranet tools, like those available in MangoApps, team members can send out either a quick update or a detailed status report to their entire team, giving them the freedom to both create updates and read coworker reports whenever best fits their schedule. These reports keep everyone updated and informed no matter where they might be or what else is going on.
MangoApps
High performing teams and all of their accomplishments are never out of your reach. With some careful planning and a little creativity, successful teams can happen anywhere. To learn more about how MangoApps is here to help, schedule a personalized demo with us today.