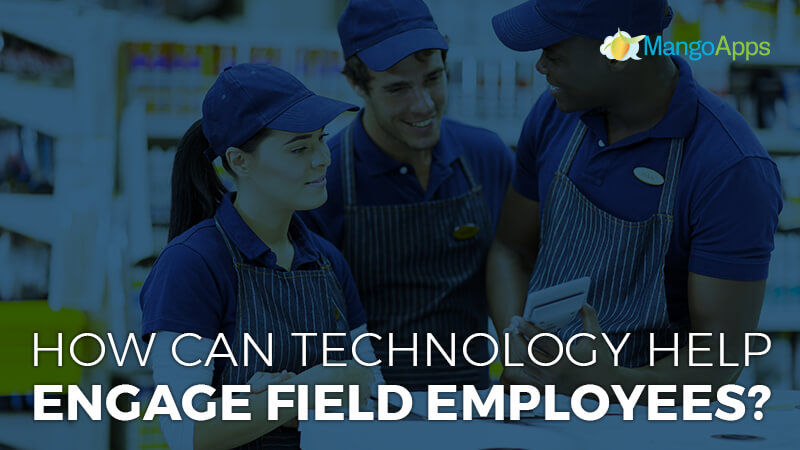 Field employees are workers in frontline positions that interact directly with the customers, products, or services their company sells. Examples of field employees include retail staff, hospitality crews, health care clinicians, etc. Despite being on the frontlines, field employees are often the last ones to receive access to modern work technology. Yet their job output could be greatly improved with a few simple upgrades. With better work communication tools, employees can naturally increase teamwork, have more positive customer interactions, and more.
Six Ways Technology Can Help Engage Field Employees:
#1: Access In The Field
Since frontline workers are usually on the go, computers are often inaccessible or out of reach. Computers and other smart devices can be used in hundreds of ways to improve communication for employees. Granting your workers access to a mobile-friendly work app, even for short periods of the day, will allow your deskless workers to stay engaged and up to date on company news.
#2: Easy Instant Messaging
Field employees can use instant messaging to stay in touch with one another and quickly communicate. It's faster than email and is a simpler way of contacting someone. Instant messaging is also great for quick and simple communication. This is perfect for both desk employees and busy frontline workers.
#3: Fun Video Conferencing
Using video conferencing for meetings and conversations is a great way to keep field employees in touch with workers they may not otherwise have a chance to engage with. It can be helpful for everyday meetings or even just checking in with specific employees. By building new connections and stronger relationships with employees, your organization with generate an increase in employee engagement and improved productivity.
---
For a deeper look at this topic, read our whitepaper "Engage With Your Deskless Workers"
#4: Secure Communication
When a communication method is not provided, field employees turn to Facebook, WhatsApp, or texting as an alternate communication outlet for work communication. This can create serious security issues within your organization. Long-term reliance on unsecured apps puts company data at risk and jeopardizes internal security.
#5: Shared Speaking Space
Improve employee engagement by providing a shared speaking space for all of your employees. Frontline workers can use it for brainstorming work ideas or just simple chit chat. With a place to post updates about work, employees can stay up to date on news while relating and engaging with other employee's posts. Since field employees will have access to other coworkers, they can create new connections. Failure to provide a shared communication space for your field workers leads to reduced engagement. This can be quite harmful to your company culture. To learn more about the signs of decreasing employee engagement, click here.
#6: Simple Scheduling
By uploading weekly work schedules into a communication software solution, employees can easily see their approved hours. They can also quickly communicate through the program if they need to make changes or ask others to work for them, eliminating the need for texting, collecting phone numbers, or sending emails.
MangoApps
These ideas are just the tip of the iceberg when it comes to using technology to engage your deskless workers. Luckily, we provide a solution that can help truly engage your deskless workers. With MangoApps' communication and collaboration platform, your field employees will have instant access to their peers, and will be easily able to stay in the loop regarding company news.
For more information on how MangoApps can help, contact us or schedule a demo today.