Internal comms folks… this article is for you!
At MangoApps, we've seen many internal communicators struggle to effectively deploy communications due to the lack of proper tools.
You may have already communicated these limitations to top brass only to be told that the proper tools "don't fit within our budget" or "this is not a priority right now."
We're here to tell you that the tools you need to become an internal comms superstar CAN fit within your budget. In fact, it will probably even save your company money (check out our ROI calculator)!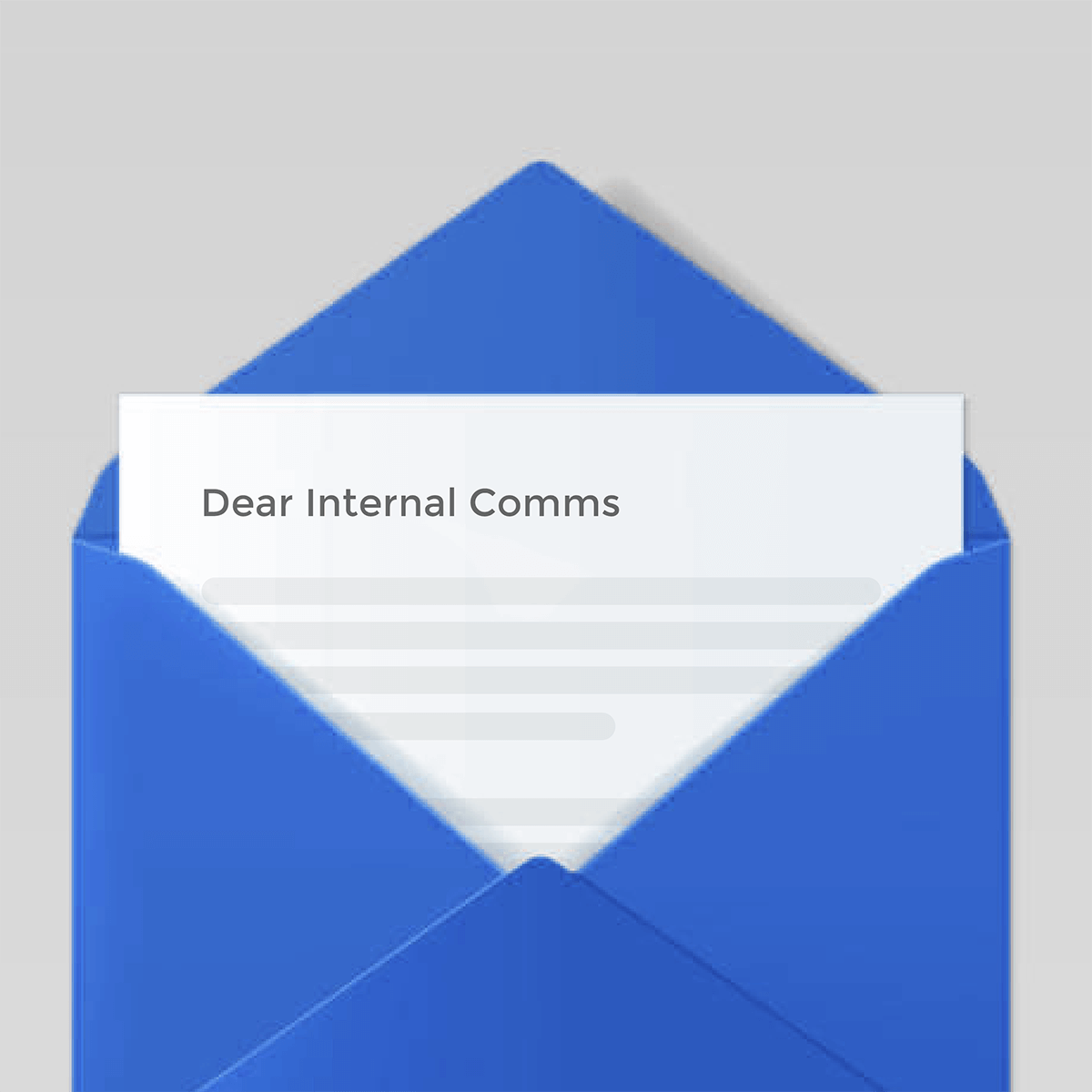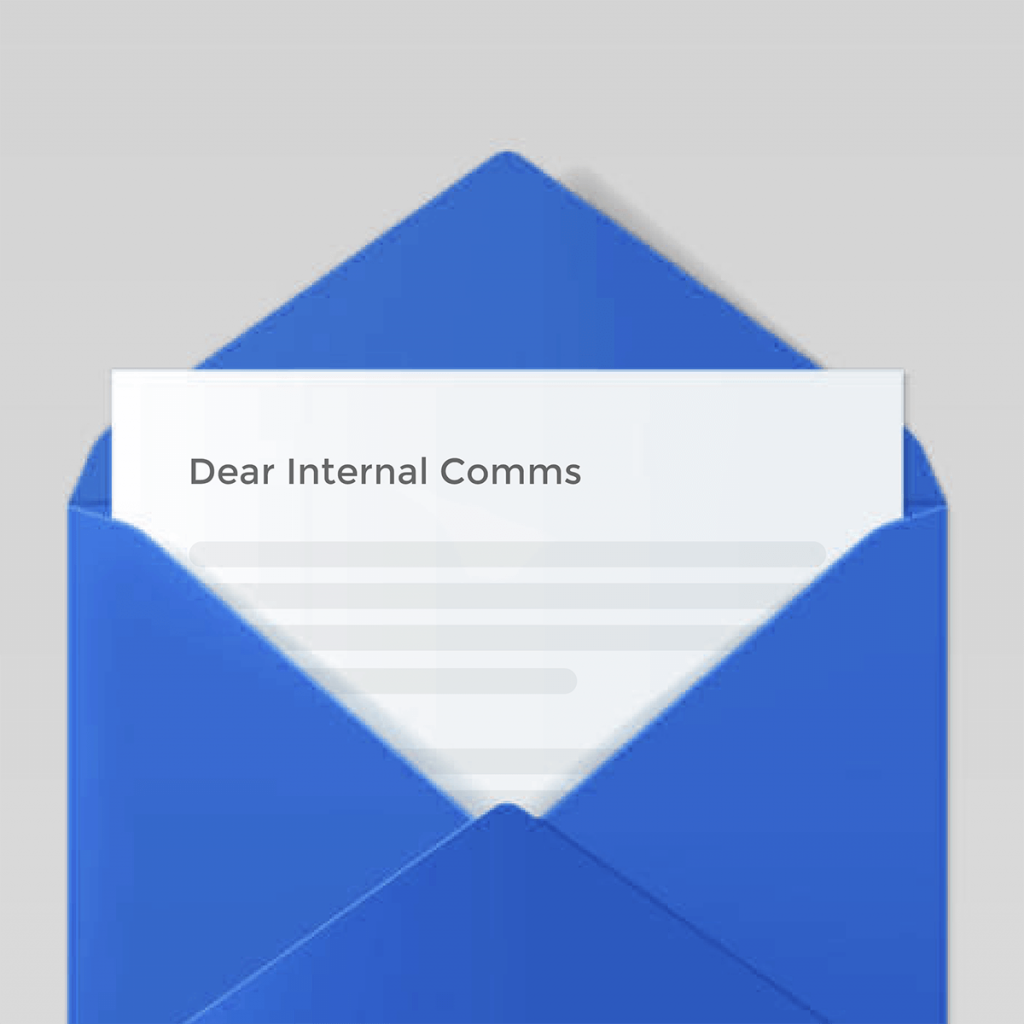 Does this sound familiar?
How to decide if it's time to reevaluate your internal comms strategy:
There's no way to send out emails to specific segments of your workforce – you either have to press the dreaded 'send all' button or take the time to manually enter the email addresses you want to send it out to.
There's limited engagement analytics – you can't tell which content generates higher/lower engagement. Once a communication has been sent out, there's no capability to see if people have opened/consumed the content.
For high-priority communications – you have to send out multiple announcements to make sure that people can see the information. Meaning that people who may have already consumed the content will be spammed with it again.
Your frontline employees don't have email addresses – the only way to communicate with them is either by calling them, sending physical mail to their household, or posting physical signage at their location.
There's no integration with your HR system – email lists have to be manually updated and can be a nightmare to manage.
There's no capability to use pre-saved templates – communications have to be created from scratch every time, wasting hours a week.
Limited communication across the workforce – there's no way for employees to comment on a message that's sent out (without clicking 'reply all').
There's no way to schedule announcements/messages to go out – you have to manually draft & send it out at a specific time.
Searching for a specific conversation or file is impossible – it is difficult for employees to identify which version of a document is the most recent one.
If any of these pain points resonate with you, you could benefit from a modern digital workplace platform such as MangoApps.
Continue reading to learn why your organization should invest in an internal comms tool like MangoApps, and how you can generate immediate savings while improving your tech offering.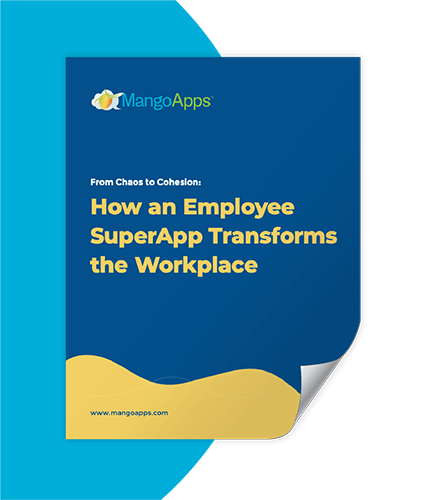 Whitepaper – Employee SuperApps
Want to eliminate information chaos and provide your workers with a unified employee experience?
In this whitepaper, we give a detailed breakdown of why Employee SuperApps are becoming increasingly popular among frontline organizations.
Why Should I Invest In A Internal Comms Tool Like MangoApps?
You're currently using email as your primary means of communication
When you blast out emails to all of your staff members, they won't get read. Similar to how you don't look at all of the spam emails in your personal inbox.
Rather than sending out all-staff email blasts that no one reads, with MangoApps, you could send targeted multimedia communications with relevant information.
Automated segmentation allows you as an internal comms professional to target specific groups with relevant information, so no one receives unnecessary outreach or misses job-critical updates.
This means your truck drivers, store employees, manufacturing workers, etc. will only see the information that is relevant to them. They won't be distracted by all of the 'send all' emails that make their inbox become a flooded swamp of irrelevant information.
Rather than sending an email out and crossing your fingers that your employees will take the time to read it, you can send tailored messages to specific groups and track engagement in real-time to see who is viewing your content.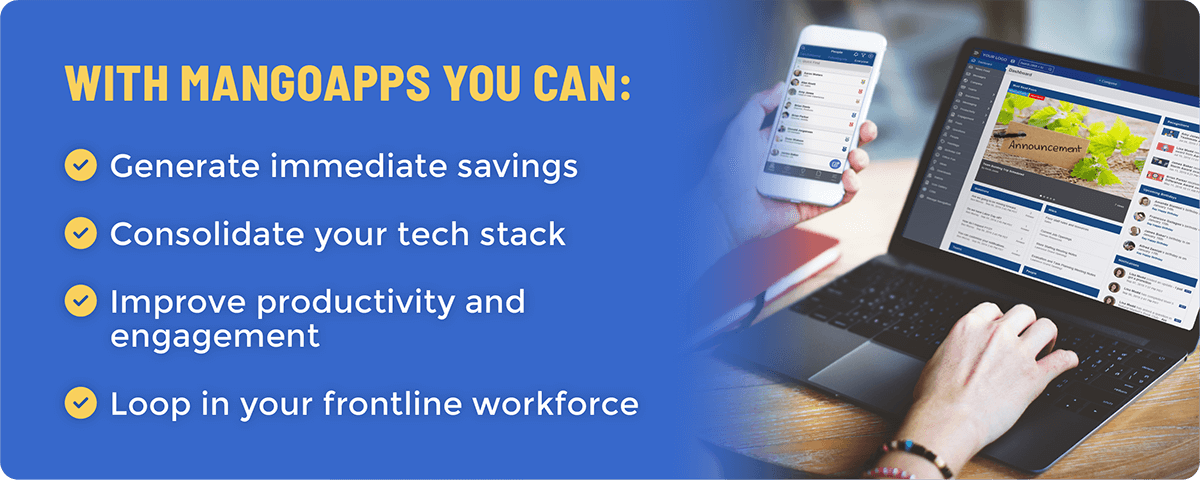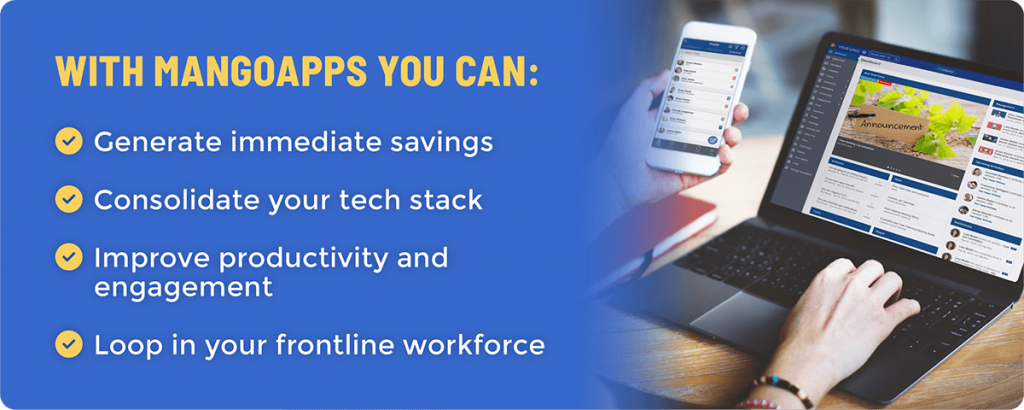 Some of the problems with relying on email consist of:
Email licenses are expensive. Your organization is either providing email addresses to your entire workforce (which is costly) or completely neglecting your frontline workers.
Poor search functionality – files & conversations can become difficult to find.
Companies don't have an organized approach to decide who gets which emails. Irrelevant messages are constantly sent to the wrong people.
When ongoing non-linear conversations occur, it can be difficult to keep people in the loop and informed on relevant discussions.
And the worst problem of all… email is a massive time-suck for the average employee. According to a Harvard study, the average full-time worker spends 2.6 hours on email every day. By using email as the sole means of communication, you are severely hindering the productivity of your entire workforce.
Information is difficult to find
Another major constraint limiting employee productivity is time spent searching for information and resources. This number usually is a direct result of insufficient tools and employees having to manually search across multiple platforms.
When your employees are forced to access multiple tools to do their daily work, it can be difficult to track where information and conversations are located.
Trying to reference a discussion from a few months ago can result in a time-consuming journey through their digital footprint.
With MangoApps you can bring all of these siloed tools and applications underneath one umbrella. When conversations and information are stored in the same place it's easier for employees to locate what they're looking for. This can lead to improved productivity and more engaged employees.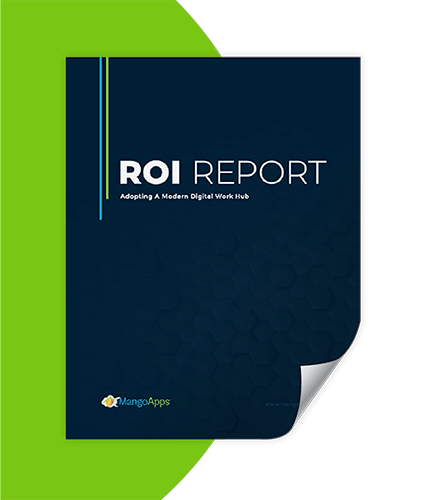 Calculate the ROI of MangoApps
In this report, we take a look at how to measure the return on investment of adopting a modern digital work hub such as MangoApps.
The ROI of MangoApps
How much can MangoApps save you?
In our ROI report, we examined a hypothetical company with 2,500 employees that is considering switching to MangoApps (ACME).
2,000 of their employees are in frontline roles, and the other 500 are desk workers. In the area of reducing reliance on email, they would see savings on two fronts.
Save 30 minutes per day per desk worker
Many companies do not give enough thought to the volume of company-wide emails they are sending. With MangoApps, users have some control over the relative priority of various kinds of notifications.
You can send communications through your intranet system, enabling self-service content. This removes the need for a lot of the messages that exist to make users aware of a policy change or an update to a document.

Furthermore, precise targeting lets you send things out to smaller segments. This ensures only the people who actually need to receive a particular message will get it.
Save $4/month per frontline worker
Like many companies, ACME uses Microsoft for their workplace software. Every employee is given an Outlook account, which ACME uses to reach them. For desk workers, this makes sense, but for many frontline teams, this is a bad solution.
Email is not a good tool for reaching frontline employees. In most cases, corporate teams use it to push out mass email notifications, which frontline workers largely ignore. Then, when a particular worker needs a file or resource, they have to dig through their crowded inbox to find it. Furthermore, most frontline workers only send a handful of emails per month.
With MangoApps, instead of bombarding them with impersonal emails, you create interactive pages and repositories where they can find all the resources they need. Better yet, it's cheaper than a Microsoft license.

In most cases, we are able to save customers like this a minimum of $4 per user per month for anyone that no longer needs an Outlook account (and sometimes considerably more). In ACME's case, their 2,000 frontline workers no longer need email, saving $96,000 in licensing fees.
To continue learning about the ROI you can realize from replacing email with MangoApps, check out this blog.
Learn How Internal Comms Experts Use MangoApps