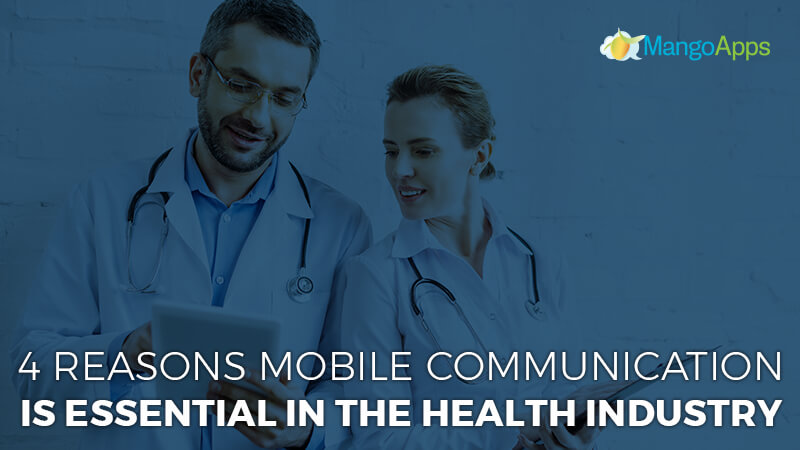 With the expansion of electronic health records, medical technology has continued to implement, adapt, and expand over the past decades. From activity-tracking health bands to portable blood diagnosis devices, medical care has advanced in ways unthinkable only a few years ago. And the digital revolution isn't over. Over the years, doctors, nurses, and other health care practitioners have struggled to communicate effectively and stay up to date on ever-changing information. But mobile communication is here to make things a lot easier.
Why Mobile Communication Is Essential In Healthcare:
Easy Access To Education
Medical information is always changing, and professionals are required to constantly learn new skills, techniques, processes, and procedures. But finding time for everyone to learn important information is a real challenge. Medical practitioners work around the clock with constantly changing schedules and responsibilities. No two days are the same and no day is ever completely predictable. But with mobile learning, practitioners can finally eliminate the on-the-go confusion. With regulated lessons, detailed videos, and updated information all available on a mobile device, medical practitioners can see essential news whenever needed.
Real-Time Peer Interaction
The goal of every healthcare provider is to deliver the best possible patient experience. But in order for that to happen, every member of the medical staff needs to work well with each other. It's only when every practitioner can wholeheartedly contribute to the conversation that the best possible outcome is achieved. Practitioners need a reliable, real-time, platform for collaborating and communicating together. With mobile communication tools, like those available from MangoApps, practitioners of every kind can easily share knowledge, provide advice, and assist in offering exceptional care.
Supportive Work Community
The medical industry is a physically, mentally, and emotionally draining field. Unless you actively participate in a medical occupation, it can be difficult to understand exactly what the experience is like. Medical practitioners need a dedicated support system with coworkers and peers who understand their unique work environment. They need access to the support, advice, and comradery that comes from people in a similar situation working together as a team. With regular mobile access to their coworkers and staff, individuals can reach out at any time to feel the encouragement, friendship, and support essential to a medical practitioner's long term success.
Improved Shift Communication
Shifts in the healthcare environment are often long, inconsistent, and at times, awfully inconvenient. Working on-call or with a constantly rotating schedule can lead to confusion about who is working when. Coordination gets even more complicated when practitioners need to switch shifts, work double shifts, or alter the existing schedule. Dedicated mobile alerts and messaging systems keep everyone informed about shift changes or other last-minute concerns such as transportation delays, unexpected illness, or even unplanned changes or new information employees need to while working. With a mobile communication tool, you can improve shift communication within your healthcare organization.
Mobile Communication With MangoApps
Mobile communication will be the next big game-changer in the medical industry if embraced effectively. At MangoApps, we help medical practitioners and organizations work faster, smarter, and easier with a descriptive intranet, dedicated groups, seamless communication, and searchable work management, all available instantly from any mobile device.
To learn more about how MangoApps can help your healthcare organization, contact us or schedule a personalized demo today.