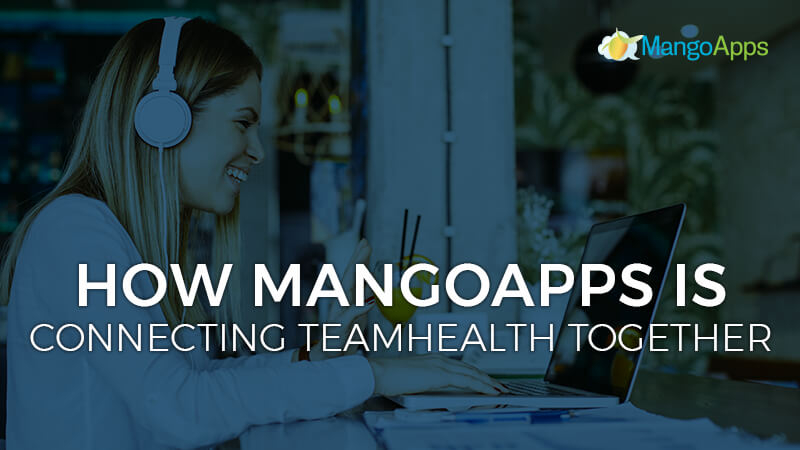 About TeamHealth
TeamHealth is a clinician services organization based out of Knoxville, Tennessee. The company provides highly-qualified and exceptionally-skilled physicians, advanced practice clinicians, and other healthcare professionals to hospitals and other health-related organizations throughout the United States. Well-known in the healthcare industry for their exceptional clinical associates across the country, TeamHealth works with more than 16,000 affiliated healthcare professionals, providing outsourced care and medical services to approximately 3,100 facilities nationwide.
The Challenge
With the majority of their clinical employees being active emergency room clinicians, TeamHealth had a unique communication challenge. They needed a communication platform that increased engagement to a geographically-dispersed clinician workforce, instantly providing them with up-to-date information while still allowing them to say on-the-go. TeamHealth employees also needed a centralized location for communication, collaboration, clinician schedules, and more. TeamHealth was looking for a better way to connect clinicians across the country as well as share companywide notifications.
With a mobile-first approach for their clinicians, TeamHealth set out to find a solution that increased flexibility, implemented centralized collaboration, and provided a communication platform designed to increase productivity and ultimately improve the clinician experience. While looking for a solution, TeamHealth also had to ensure this platform could meet its strict standard guidelines and HIPAA compliance requirements.
The MangoApps Advantage
It didn't take TeamHealth long to realize that MangoApps was the perfect answer.  MangoApps quickly became the one-stop access point for clinicians to start their day. With MangoApps, employees were able to stay productive and receive instant updates and company information.
Centralized Action Center
MangoApps dashboards provided TeamHealth clinicians and employees with a much-needed action center. Clinicians are instantly notified about important activities that need to be completed. This dashboard makes it easy for users to immediately take action, often launching to-do items right from the action center. Users are instantly updated about new action items through push notifications and smart reminders. They can even share items with their supervisors, easily keeping them updated and informed.
A True Mobile Single Sign-On
TeamHealth professionals needed consistent access to a wide variety of software, programs, and information, without having to continually sign-in or provide additional authentication. With MangoApps, healthcare providers benefit from a true single sign-on, allowing them to transition from program to program within MangoApps
Easy Ghostwriting Abilities
The TeamHealth communication team needs to regularly publish articles on behalf of leaders to better manage messages to their audience. MangoApps provides the communication team with flawless ghostwriting abilities, making it easy for a content specialist to publish an article for another user. Content can even be edited by several TeamHealth departments and then published under the original author's name.
Consistent Record Keeping
TeamHealth needed a way to keep consistent records and ensure information was up-to-date. MangoApps helps TeamHealth in their efforts by allowing the portal to read attributes and groups from the SAML assertion. This enables the company to maintain updated attributes and makes creating and managing a wide variety of groups even easier.
Straightforward Mobile Pinning
Clinicians on-the-go needed the ability to save interesting or important information right away. MangoApps makes it simple for all TeamHealth employees to access and save relevant content. Users can pin or unpin posts and updates right from the mobile app, saving any content they need in an easy to access area of their newsfeed.
Links to Additional Sources
With a large variety of departments and work requirements, TeamHealth clinicians and employees often need to access additional external information. MangoApps keeps external navigation straightforward by enhancing the ability to link to URLs from the company's top navigation bar. Employees can use these links to access frequently used content both internally and externally.
Advanced Rewards and Recognitions
MangoApps rewards and recognitions help TeamHealth users better communicate and showcase the exceptional work being done by their coworkers, colleagues and supervisors. MangoApps awards are completely customizable, allowing TeamHealth employees to accurately represent any accomplishment.
Individual or Group Messaging
TeamHealth clinicians and employees often need to communicate quickly with a specific individual or group of people to discuss a clinical case or a project. MangoApps is communication and collaboration driven, and provides multiple methods for users to quickly locate individuals based on their name, location, credentials and more and then instantly and privately connect in either one-on-one or group collaboration.
MangoApps
At MangoApps, we love working with TeamHealth and helping them find new ways to improve productivity and collaborate better together every day. MangoApps is dedicated to personalized customer care and is always open to help however you need. To learn more about how MangoApps helped TeamHealth implement outstanding internal communication, take a look at our comprehensive company interview or download the complete TeamHealth case study.
Download The Full Case Study