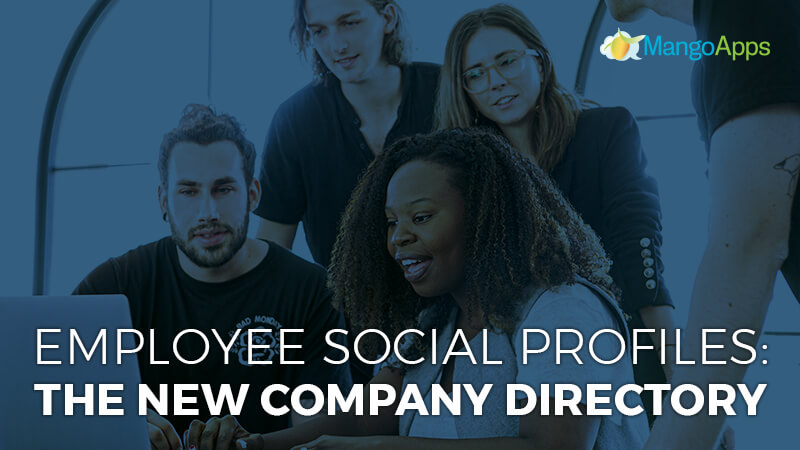 Corporate employee directories traditionally provide only basic employee contact details. The reason you have probably looked up someone in the employee directory is to get the person's contact number or in some cases know his experience and background info. Corporate employee directories in most cases are not integrated with your other work software like the project management, document management or collaboration tools that you use everyday at work.
In other words, the old corporate employee directories have limitations and in most cases are not capable of answering key professional questions such as:
Does the person have skills, talents and interests in the area I am looking for?
What are this person's recent accomplishments?
What ideas, opportunities, knowledge base has the person created or contributed to?
What awards, endorsements, and recommendations has the person received?
At a high level, is your corporate directory information connected to your company's success? Chances are, probably not. Employee social profiles on the other hand, incorporate corporate directories into a your company's long term success.
Social Profiles Provide A Complete Professional Story
Social profiles provide a visually appealing professional page that allows you to make a powerful impression and showcase your skills, expertise and accomplishments company wide. By having your internal social profile pull data from your LinkedIn account and your company's active directory, you can have your professional identify in a snap.
Your professional insights on your internal social profile are all your contributions and accomplishments in the company. This could include:
Your Current Work Activity – Social profiles typically show your activity in the company. This includes your status updates, any posts you have made, commenting or liking your colleagues' content etc.
Your Projects – Social profiles show the projects and groups you are a part of
Your Documents – Documents you have written or contributed to in your company across different assignments
Your Ideas, Opportunities – Ideas you have generated, campaigns you have contributed to, and any sales opportunities
Your Publications – All of the online content you have created (e.g., wikis, posts, blogs etc)
Your Awards, Recognition, Achievements – The appreciation and recognition your work has received
Your Followers & Whom you Follow – The colleagues at work you follow and the ones who follow you
Social Profiles Help You Find Experts And Opportunities
With the professional identity and professional insights of all your employees available on internal social profiles, your company has a powerful enterprise tool to find experts fast. Finding experts based on user generated data such as expertise, skills, interests and dynamically generated data, makes the internal social profiles the ultimate source for expert finding inside your company.
Barut Hospitality Management, a Turkish resort hotel chain, leveraged a social intranet to connect their dispersed employees and enabled them to connect with each other. To learn more, download this case study.
Social Profiles Drive Company Engagement
Internal social profiles make it easier to see what your colleagues are up to and to engage with them. Recent activity on their profiles allows you to stay current with what your company network has been sharing and working on.
Data shows that successful internal social profiles result in building networks that enable participants to help each other, collaborate on projects together, and generally get to know each other better.
MangoApps
MangoApps provides a modern intranet solution that includes employee social profiles as one of its core features. If you would like to learn more about MangoApps' Employee Social Profile feature, schedule a demo today.