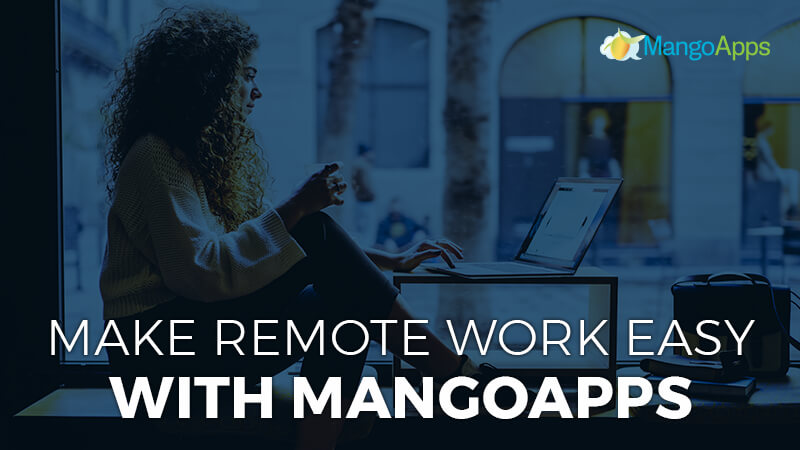 COVID-19 has caused companies of every size to contemplate how social distancing can effectively happen within their organization. For many businesses, turning to remote work seemed like the obvious answer, but suddenly shifting to a remote setting is surprisingly easier said than done. In fact, in a recent poll, 91% of participating HR leaders cited a lack of technology as one of their biggest challenges in trying to create a new remote environment. Instead of seamlessly transitioning to online work, companies instead find themselves struggling to gather enough resources to get the job done.  
Remote Work With MangoApps
At MangoApps, we've been a leader in the fields of centralized, online, and remote work for over a decade. Whether you're working from home, working with multiple offices, navigating a crisis, or just keeping in touch while on the road, MangoApps makes communication effective and easy. We're proud to report that our customers feel more prepared and better able to tackle upcoming and unexpected work challenges than many other organizations. At MangoApps, we know first-hand that a digital, centralized, remote-friendly platform benefits businesses during the best of times, and provides perfect peace of mind in stressful situations. Here are just a few of the dozens of different ways MangoApps helps clients incorporate a successful remote setting.  
Posting Company Communication
Company posts in MangoApps quickly distribute mass communication to all of your employees. Once created, posts are instantly accessible and generate push notifications across all connected devices. For many businesses, posts work much like traditional company emails, newsletters, and announcements, but without the all too common frustration of lost or misplaced messages. Because posts are centralized, searchable, and accessible, they ensure remote workers always stay updated, included, and informed. For especially important information, leaders can create must-read posts with acknowledgement required setting, helping them keep track of and manage who has seen the message.       
As an excellent example of posting capabilities, several of our clients in the last few weeks have used posts to keep employees updated and informed about changes due to Covid-19. Whether it's government mandates like limiting group gatherings or work specific changes like updated work from home practices and policies, company posts keep employees, remote or otherwise, updated and informed.
Digital Group Spaces
Groups are specific workspaces in MangoApps dedicated to a unique purpose. They give workers a digital area to congregate, communicate, and collaborate on a specific topic regardless of physical distance, work schedules, or even language barriers in some instances.  A group can encompass anything from emergency preparation to product teams, but are typically wide in scope and don't have a specific project goal or end date in mind. With groups, employees and authorized guest users can upload files, add documents, post pictures, create wikis, generate polls and surveys, and post news feeds all in one centralized, digital space, naturally making them a fantastic resource for both remote and office employees.
Location-Based Groups
Like other groups in MangoApps, location-based groups provide employees with a specific digital space to share resources and easily communicate together. Location-based groups differ, however, by organizing employees based on their geographical location. Companies typically use location-based groups to share news in their local community. This includes unsafe weather conditions, information about a specific office location, etc.
 While at first glance location groups might seem irrelevant, they're actually incredibly useful for employees who divide their time between the office and another location. Whether you're traveling and need to stay connected, have an emergency and are operating from home, or spend a few days every week working outside the office, location-based groups keep all employees participating and informed.     
Updates In Real-Time
MangoApps was built with remote work in mind, and instantly connects employees through their desktop, laptop, smartphone, or any other kind of smart device. No matter how or where employees work, MangoApps sends push notifications and updates out to any device in real-time. For remote employees, who often work unusual hours or away from a computer, real-time updates are especially important. Working out of the office no longer means being left out of the loop. Instead, everyone receives information at the same time, whether it's averting a crisis situation or just everyday information.
Integrated Instant Messaging
For remote workers, effective communication can be particularly challenging. Remote employees don't work with colleagues face to face, limiting their opportunities for work conversations. MangoApps helps workers overcome this obstacle by integrating company-wide instant messaging right into our platform. No matter where you work or who you need to contact, MangoApps' built-in chats keep communication fast, easy, efficient, and free from third parties.
Screen Sharing And Video Chat
Screen sharing and video chats in MangoApps lets users show their screen live to employees and approved guest users. It also allows them to record their current screen and create a video for future use. Whichever method you use, screen sharing and video chats give participants a visual guide and personalize communication. Helping clarify explanations, saving time, and reducing confusion in the remote environment. Instead of trying to explain an issue verbally or in writing, employees can just show each other exactly what they mean. This can help simplify distance meetings and allow everyone to continue work without missing a beat.
Simplified File Sharing
MangoApps helps both remote and office workers stay organized and on top of work with searchable, centralized, and secure file sharing. In MangoApps, employees can upload files as large as 5 GB directly into a group, project, department, or company space. These files are made instantly accessible and easy to share with coworkers from anywhere. And with files securely stored in MangoApps, work stays centralized and safe no matter where or when they're needed. Files can even be edited in the platform, so you'll always have the most up to date information whether you're in or out of the office.   
Projects Spaces And Assigned Tasks
Like groups, project spaces in MangoApps give employees a designated area to communicate, work together, and centralize resources. But while groups focus on open-ended topics and ideas, project areas are typically designed with a specific task or end date in mind. Projects, like groups, also operate digitally and keep coworkers connected regardless of their schedules or physical locations, making them ideal for remote employees. And because project spaces have a specific goal in mind, they also allow leaders to assign tasks. Assigned tasks help workers know what's expected of them. These tasks often include information like due dates, task details, checklists, and more.
Regular Status Updates
In MangoApps' online environment, regular status updates offer leaders and coworkers an in-depth view of employee progress. Status updates remove the need for lengthy status meetings and let everyone view updates at their own convenience. Updates also create a written progress record, giving both leaders and employees something they can easily refer back to. While status updates are helpful in every setting, they're particularly useful in a remote environment. Updates keep both leaders and workers accountable while out of the office and increase communication, trust, and responsibility across the organization.
At MangoApps, our employees share regular status updates as part of a weekly progress report. At the end of the week, every worker posts a summary of his or her accomplishments, a plan for the upcoming week, and any areas where help or assistance is needed. With our regular weekly reports, team members are always in-the-loop and know what to expect during the week.
Organized Resource Libraries
With MangoApps' Libraries feature, businesses can easily store information in detailed libraries. Mango Libraries allow companies to organize documents, files, hyperlinks, and other useful resources into categorized areas, creating a digital index for your organization. Employers can build any number of knowledge bases with all kinds of different, detailed, and fleshed out information. Libraries are easy to access and even easier to navigate and use, making storing and finding company documents while working remotely super simple. Remote workers no longer need to frustratingly take time to track down company resources readily available to office employees.  
Detailed People Directory
The MangoApps people directory is an online repository of employee information. Replacing the old fashioned printed or word document directories, the people directory offers employees a detailed org chart and a comprehensive profile page for each worker. Employee profile pages are updated regularly by employees and provide not only basic contact information, but also personalized work content like work experience, project history, and employee specialties. For remote workers, who often have limited coworker communication, an accurate employee directory changes everything. Employees can not only find contact information quickly, but can also search for coworkers based on location, job type, etc. They can quickly find people within the organization they would have never known about otherwise.  
Co-Authoring Notes and Documents
Joint documents benefit from multiple perspectives, writing styles, and experiences, but when it comes to remote work, seamlessly co-authoring a single document can be a bit tricky. MangoApps helps make co-authoring easy by incorporating an in-depth editor right into the platform. Users can track changes, work in tandem, and always have the latest file available, removing the need to juggling multiple versions of the same document and the risk of unsecure work, duplicating efforts or working with inaccurate information.
Information and Data Trackers
Trackers help employees and leadership in MangoApps manage results and organize information. Trackers can be tied to a specific source of gathering information like a survey or a poll, or they can simply be a space to store and analyze data. Storing content in a tracker is particularly helpful for remote employees who need access to passwords, logins, usernames, data results, and other trackable information in a centralized yet secure space easily accessible away from the office.
Collaborating With Partners
Any business that regularly works with clients knows the importance of consistent customer communication. Fortunately, collaborating with partners is made a lot easier with MangoApps. Our products allow admins to incorporate guest users directly into a project, giving clients a centralized space to work together. Incorporating guest users ensures that the method of communication they experience never changes, even if employees leave your company. And new workers can quickly come up to speed without interrupting customer service or missing out on important information.
 At MangoApps, we internally create a specific group for each of our clients with invited guest users. Having a company representative we can work with at any time makes a real difference in forming strong, positive client relationships.
Recognizing Coworkers and Colleagues
While working remotely is usually a benefit for both employers and employees, it does come with its own set of obstacles. One such challenge remote workers may face is feeling disconnected or unappreciated by leaders and peers. MangoApps helps employers overcome the recognition gap by incorporating an easy to use employee recognition tool right into the platform. Our detailed recognition feature includes a wide variety of predesigned award templates, making it easy to highlight the hard work of either a specific individual or an entire team. With a little extra forethought and simple recognition abilities, remote employees will always know that they are remembered and appreciated.
Schedule A Demo Today!
Remote work is a fantastic resource that improves company productivity and increases employee engagement at any time. And at MangoApps, we're always here to help. We stand by our customers from start to finish so they can feel confident, prepared, and successful in their new environment. If your organization is looking to expand its remote resources, MangoApps wants to make it happen. We pride ourselves on establishing thriving and centralized workspaces quickly and efficiently in organizations of every size. If you would like to learn more about MangoApps, please contact our sales team today!